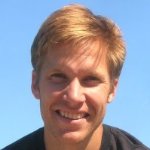 Andreas Olofsson, CEO
Andreas Olofsson founded Adapteva in February 2008. Prior to Adapteva, he was a key contributor to a  number of successful products at Analog Devices, including the ground breaking TigerSHARC DSP architecture. The TigerSHARC was the first processor to enable software programmable 3G and WiMax base station platforms and was the most energy efficient floating point microprocessor in the world at the time of release. While working at Analog Devices, Andreas also architected and productized a line of CCD controllers for digital still cameras that ended up in products with the fastest sales ramp in ADI history and gross revenue of over $100M. Starting in 1996, Andreas has performed work in areas ranging from silicon process flow development all the way up to system level definition. Andreas' breadth of experience and holistic hands on approach to computer design has been a key ingredient in the development of a multicore architecture with unparalleled energy efficiency and ease of deployment. Andreas received his BS in Physics and Electrical Engineering from the University of Pennsylvania in 1996 and his Masters in Electrical Engineering from the same school in 1997. Andreas has over 20 patents issued and/or pending.
Ro

man Trogan, Director of Hardware Development
Roman Trogan joined Adapteva in November 2009. Prior to Adapteva, Roman worked at Analog Devices for 10 years where he contributed to the TigerSHARC and BlackFin DSP product lines. Roman has been involved in the definition and design of a broad range of silicon blocks, including high performance caches, on chip networks, floating point data-paths, performance monitors, low power optimization, and back end implementation flows. Over the span of his career Roman has a perfect track record of delivering flawless designs on time and within specifications. Roman graduated with a BS in Electrical Engineering from Ben Gurion University, Israel in 2001 and an MS in Electrical Engineering from Northeastern University in 2008.

Yaniv Sapir, Director of Application Development
Yaniv Sapir has over 20 years of experience in general purpose and embedded DSP software development. While working at Analog Devices, Yaniv was involved in a number of DSP application projects in the areas of computer graphics, encryption, modems, signal and image processing, medical and video compression. Yaniv was also the designer of the floating point multiplier of the 600MHz TigerSHARC, which is an especially impressive achievement considering that Yaniv does not have formal education in Electrical Engineering. Yaniv graduated from the Technion University, Israel in 1993 with a B.Sc. in Aerospace Engineering.