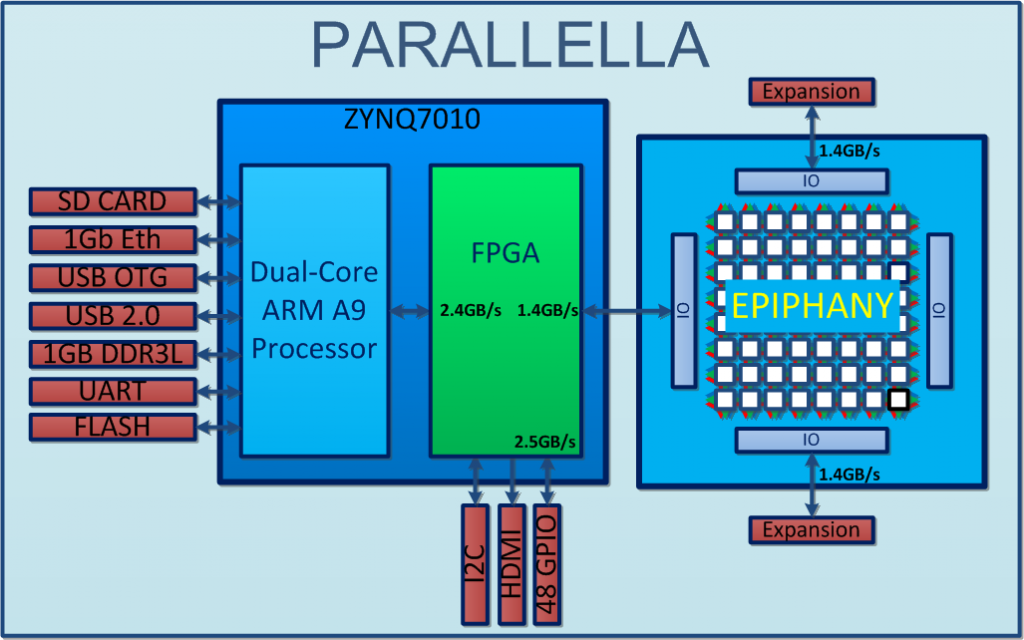 Overview
The Parallella platform is based on the Epiphany multicore chips developed by Adapteva over the last 4 years and field tested since May 2011. The Epiphany chips consists of a scalable array of simple RISC processors programmable in C/C++ connected together with a fast on chip network within a single shared memory architecture. Here is a link to the Epiphany Architecture Reference Manual
To make parallel computing ubiquitous, developers need access to a platform that is affordable, open, and easy to use. The goal of the Parallella board is to provide such a platform!
Parallella Overview

1GB SDRAM
MicroSD Card
USB 2.0 (two)
Four expansion connectors
Ethernet 10/100/1000
HDMI connection
Ships with Ubuntu OS
Ships with free open source Epiphany development tools that include C compiler, multicore debugger, Eclipse IDE, OpenCL SDK/compiler, and run time libraries.
Dimensions are 3.4" x 2.1"
Once completed, the 64-core version of the Parallella computer would deliver over 90 GFLOPS of performance on a board the size of a credit card while consuming only 5 Watts under typical work loads.
Pricing and Availability
Reserve a board using sign up form on the right. We will notify you as soon as order entry begins.